When I think about sarees, the first thing I feel is respect for our ancestors. They literally took a large piece of clothing and turned into an attire. And it is an attire no south Asian girl should be able to discard. I know that at times throwing a pair of jeans and a t-shirt on is convenient and comfortable. But at the same time, you cannot deny the appeal of a cotton saree woven in a hut in Tangail.
But unfortunately, the number of girls refusing to put on this magnificent attire is ever increasing. The number of girls bragging about how they cannot walk in a saree scares me. They also break my heart. Why can't they see how brilliant a piece of clothing can be?
So, here are my reasons for wearing sarees more.
It's comfortable
Yes, I know that it sounds very contradictory. Saree and comfort? Can they go hand in hand? Yes, my friend, they can, and they do. All you have to do is pick the right fabric, the right design, and the right colour. And fortunately for you, the choices are endless. Try putting on a chiffon/cotton saree on that particularly sunny day. Opt for georgettes if you feel like it might rain. Buy sarees that are easier to wash and don't need much ironing to look good, then go out and rock the world.
It looks good on EVERYBODY
There are few dresses that compliment every body type that there is. Thanks to the internet, you know that pear-shaped women should not wear skinny jeans, triangular people should try and add volume to their upper body and what not. However, a saree flatters every body type. It's possible to look sexy and elegant all at once if you know how to accessorize your saree. And if you don't want to go through that, just wear a little bit of kajal and a tip. You will be irresistible.
It keeps the tradition alive
Saree is something that is in its entirety our own. No European will ever be able to take credit for this beautiful innovation, because they still don't get the concept of it. But if you don't buy and wear sarees, this tradition will slowly die out. Do you know what actual Jamdani looks like? You think you do. But if you go to the market, the businessmen will try to make you buy these cheap, jamdani wannabes and you won't be able to tell the difference. This is why it is important to know your tradition, what makes it special. Otherwise, in 10 years, traditions like jamdanis will turn into myths like the Muslin.
It helps the economy
Unlike everything you buy from fancy brands, the money you spend buying sarees stays within the country. Isn't it nice when you can actually help the people who make your clothes?
You can use it on every occasion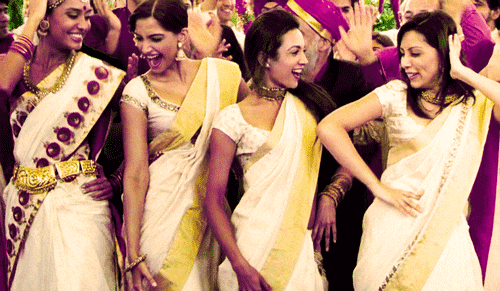 Starting from wedding ceremonies to formal interviews with classes to hangouts, you can wear a saree everywhere. And there are so many ways to style it, that you won't even feel overdressed. You have to admit that you cannot wear your tees everywhere, and salwar kameezes tend to get boring. So pick a saree. Stand out in a crowd without even lifting your finger.
If it is not apparent by now, I am obsessed with sarees. I feel it is one thing that will never go out of style for south Asians, just like ball gowns will never go out of style for Caucasians. I understand that this is a global age and you need to be accepting of other cultures as well, but let's not completely forget what's our own. Let's keep the good traditions, like sarees, alive for the future generation. Because I don't look forward to a future where every little girl doesn't have a picture where she is wearing a saree with her mother's dupatta. That will be heartbreaking.
Cheers.